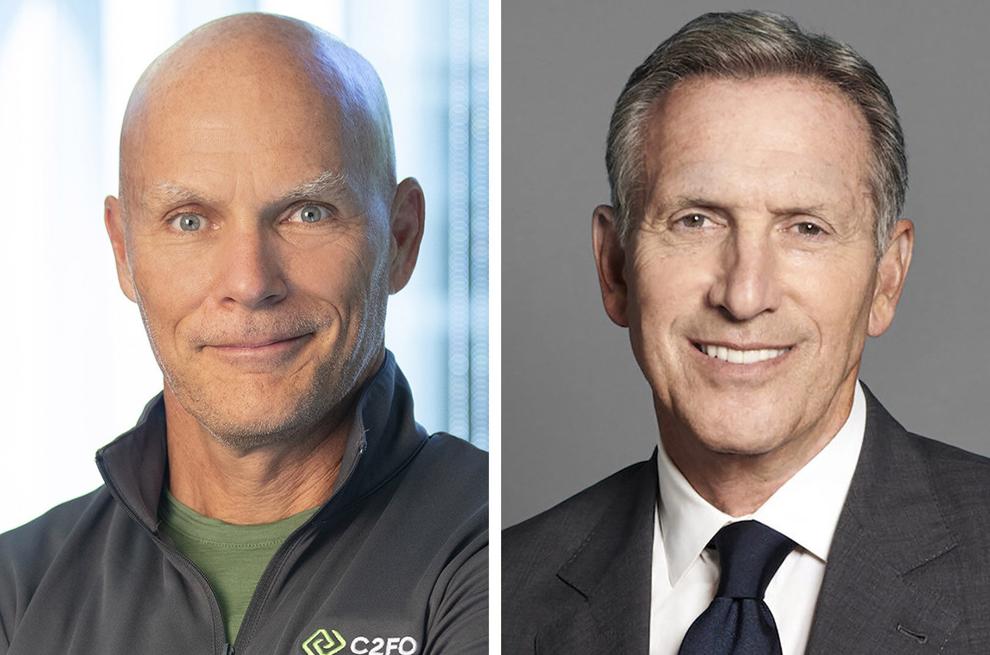 The partnership — designed to use Leawood-based C2FO's innovative lending approach to deliver flexible, equitable access to loans at competitive rates — is enabled by a $10 million investment from the Schultz Family Foundation into C2FO's lending program. It also publicly reunites collaborators Howard Schultz with Alexander "Sandy" Kemper, founder and CEO of C2FO, who previously joined a Startland News for a panel discussion on the importance of diversity and inclusion in the workplace.
Sheri Schultz and Howard Schultz, Schultz Family Foundation, speaking at an event with the Aspen Institute; photo courtesy of the Aspen Institute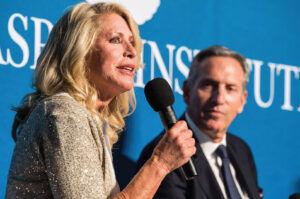 Through the new initiative, C2FO will leverage the foundation's Entrepreneurs Equity Fund investment to expand its existing funding capacity with impact credit firm Community Investment Management, enabling C2FO to expand its existing loan program and deliver an additional $100 million in projected loans in the next year, the company said.
Unlike products from banks and alternative lenders, each loan is based on each business's unique potential, C2FO detailed in a press release, including growth and management team, rather than solely on the number of years it has been in business, last year's profit, or last month's accounts receivable balances.
"We are proud to partner with the Schultz Family Foundation. This is a fabulous opportunity for our two organizations to support small and diverse-owned businesses in a big way," said Alexander "Sandy" Kemper, founder and CEO of C2FO. "We know that when businesses have equitable access to the capital they need — when a financial system is truly inclusive — we all win. Our partnership with the foundation will increase the number of loans we are able to give, supporting even more businesses than ever with easy, equitable and flexible access to capital."
Such efforts are particularly worthwhile, Kemper said, because they enable businesses to expand their day-to-day operations without diluting diverse business owners' equity ownership.
"America's future rests on our entrepreneurial fire. But in recent years, the spark within many entrepreneurs has struggled to find the oxygen to burn bright," said Howard Schultz. "The causes are many: predatory practices, lack of access to capital and social networks, the need for learning and community, and the systemic failures that lead some to not even try."
"Providing working capital to help diverse businesses meet customer demand and scale has enormous potential to be a powerful economic catalyst for the country as a whole and historically marginalized communities in particular," the Starbucks leader continued.
C2FO's partnership with the Schultz Family Foundation is based on each organization's mutual commitment to diverse-owned businesses, the two leaders shared. And it's the most recent effort that builds on C2FO's history of creating products and offerings that support businesses through innovative working capital solutions, the company said.
Because diverse-owned businesses have increasingly incorporated C2FO products and services into their cash management strategy, in 2022, the C2FO platform provided more than $4.7 billion in funding to minority- and women-owned businesses across the United States. This fueled business growth and enabled owners to invest in increased staffing, product or technology expansions, and more, the company said.
This story was republished from Startland News.