This story has been corrected.
Jim Johnson travels across Missouri and parts of Illinois nearly every week, stocked with first aid and medical supplies to deliver to his customers. 
Johnson is the owner of United First Aid & Safety, which he runs from his home in Higbee, a town of about 600 people in mid-Missouri. His company stocks up first aid cabinets in local businesses and checks to make sure the products meet Occupational Safety and Health Administration compliances. 
For years, he ran the company solo. Recently, he hired friend Jonathan Wisenand and also has help from his wife and his two daughters. The company brings in about $450,000 in annual revenue and has grown about 6% to 15% per year since 2008, he said. 
When he started in 2007, he didn't know of many other local businesses that specialize in stocking medical cabinets for businesses.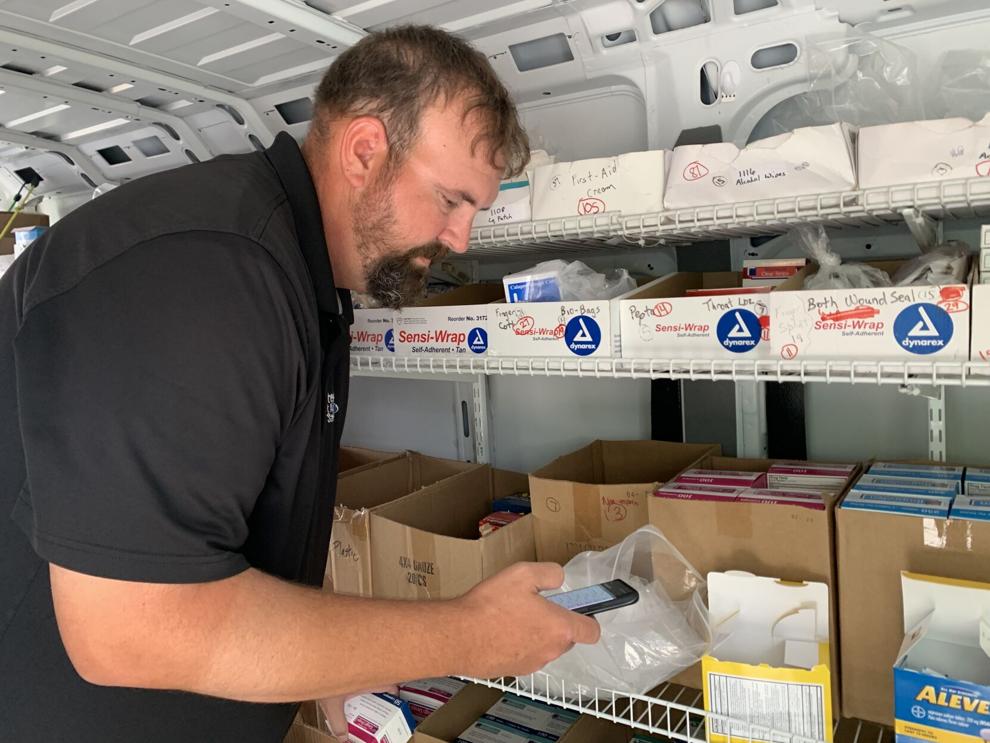 "That is a big reason why I (started the business), because I always try to buy from a locally owned company if I can," Johnson said. "And there was a need out there."
That's his claim to success – his friendly, small business flair. Johnson makes it a point to personally help his about 600 customers. 
Many other first aid suppliers, such as Cincinnati-based Cintas, Philadelphia-based Aramark and St. Louis-based Green Guard First Aid & Safety, have customers across the U.S.
"Most of my competitors are much larger than me, but I think I can offer something a little different, something more personal because every one of my customers has my cell phone (number), email address," he said.
Greg Ropp, a parts manager at Columbia Honda, said the car dealership chose United First Aid & Safety because of Johnson's neighborly focus. Johnson has stocked the business' first aid cabinets and supplied them with working gloves for five years. 
"He's always a cordial, happy guy (and) does a great job," Ropp said. "It's been a good partnership the whole time we've been doing business together." 
'Half the price'
Ropp has seen other companies overstock cabinets or overcharge Columbia Honda, but he has not had that experience with Johnson, he said. Johnson even did research to provide the company with affordable working gloves, Ropp said.
"He was about half the price of the others," he said. "And even when the prices went up with the shortage of products, he did what he could to keep us stocked up with and in line without overcharging at the time, which I think a lot of people saw happen." 
Johnson said he determines his product pricing by looking at how much he can afford and comparing that to what competitors are charging. He wants to keep his business prices fair, but he also wants to be sure he is able to keep his business running.  
One way Johnson does this is by breaking up his check-ins with businesses over time, both to save him the commute and keep in time with the products' expiration dates, he said. He aims to visit customers only when many products need to be replaced, rather than making frequent small charges. 
The pandemic brought high demand for essential first aid products. Specifically, Johnson saw an uptick in demand for nitrile gloves, which are medical gloves different from the ones sold to Ropp. Before the pandemic, he sold a pack for $60. At the start of the pandemic, he sold packs for upwards of $200.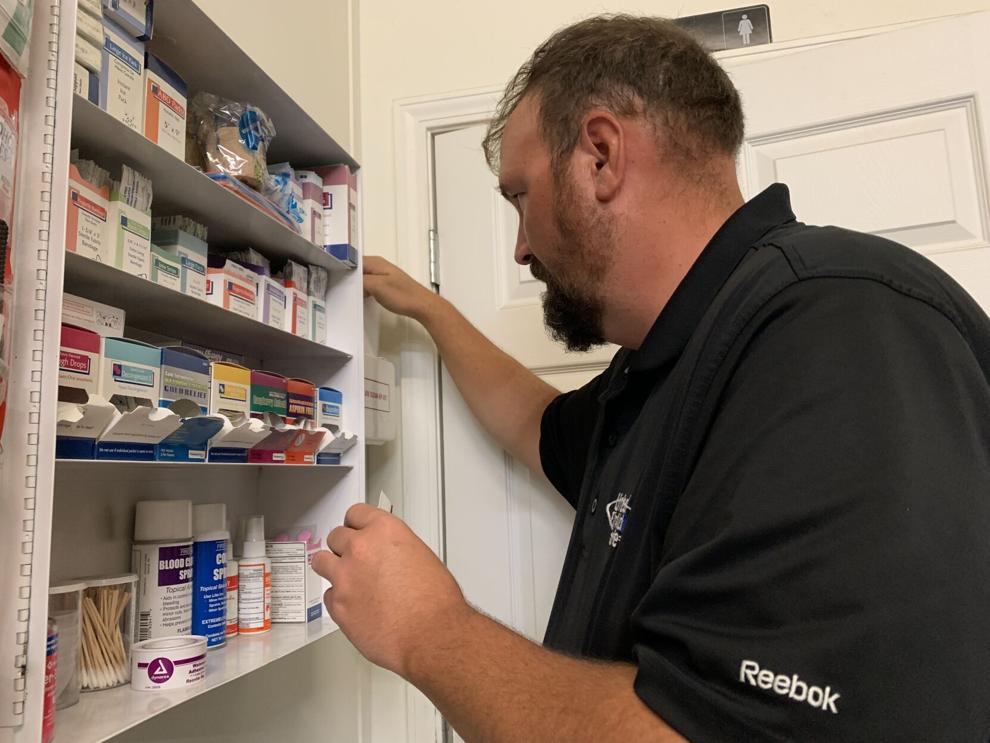 Showing up
Johnson's tried and true approach to getting his customers is cold walk-ins. He has traveled 200 miles in every direction outside of Higbee, hitting the Iowa border in some places.
That's how he got his first customer – The Dugout Bar and Grill in Monroe City. "I was just going to practice on (the owner)…and she actually made my first order," he said.
It's also how Columbia Honda became a customer. "Jim kind of found us," Ropp said. "We had been using another company that took care of our first aid supplies and stuff and he came around looking for new businesses and we did a little bit of price comparison and his prices were quite a bit cheaper than the company we had been using."
Johnson is satisfied with where United First Aid & Safety is at and believes that trying to match his national competitors would lose his appeal as a local business. He has potential plans of moving to Columbia if his teenage daughter decides to attend the University of Missouri, which would give him closer proximity to a majority of his clients.
"I like to keep it lean and mean," he said. "I'm able, I think, to keep my price at a good price point versus my competitors and I think I kind of like being the person that takes care of my customers."
This story has been corrected to reflect that Johnson is the sole owner of United First Aid & Safety.