When Ymani Wince opened The Noir Bookshop in St. Louis last spring, she told herself she was giving the business one year.
The shop sells new and used books from Black and other underrepresented authors alongside products made by Black entrepreneurs. The space is focused on celebrating the Black experience. 
Wince opened her shop at a time when independent bookstores are having a resurgence, and owners are becoming more diverse. She was inspired by other young Black women opening bookshops during the COVID-19 pandemic and wanted to do the same in St. Louis.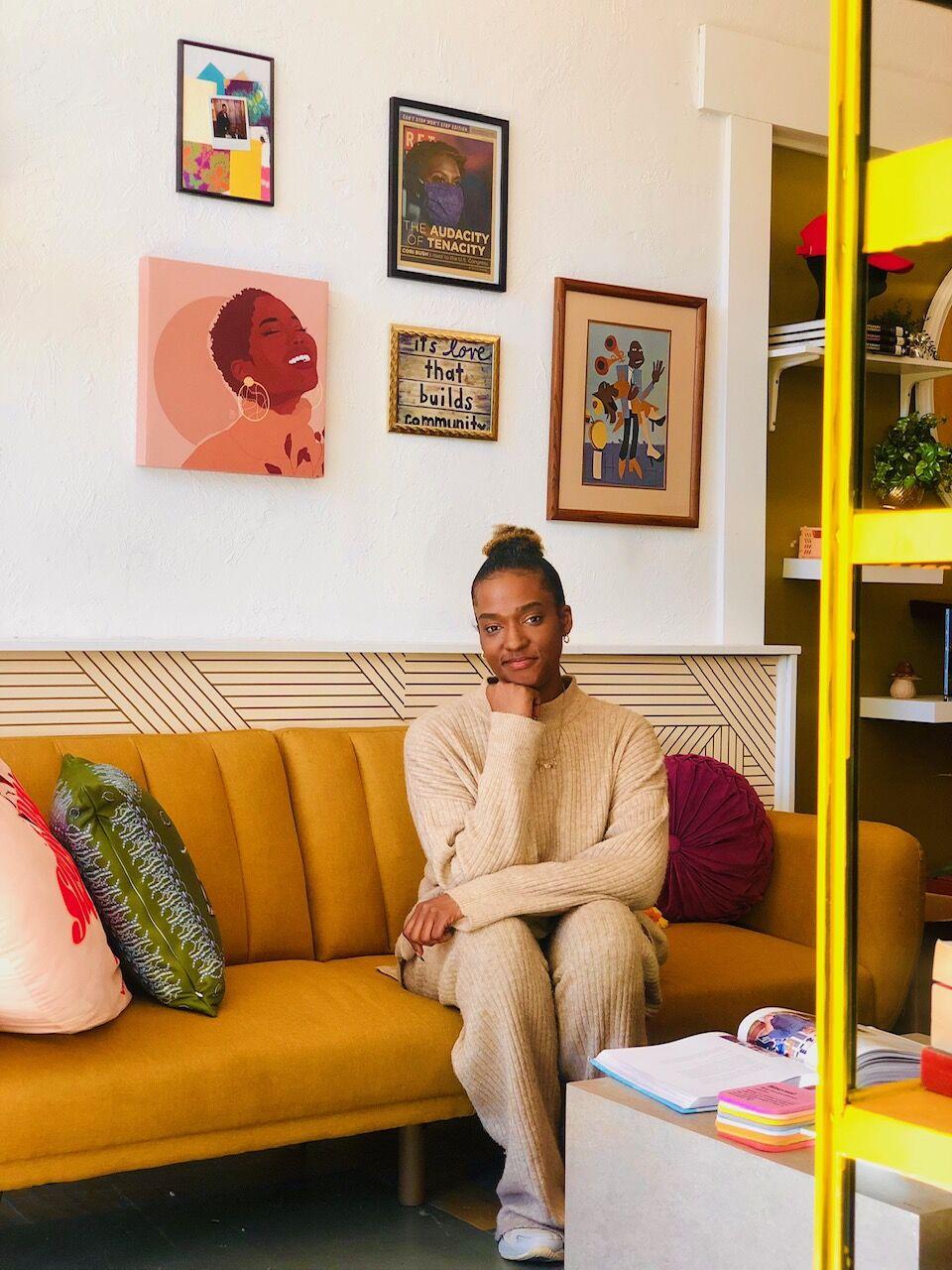 After a year of support from her community – some of it unexpected – the 29-year-old said she just re-signed her lease a few weeks ago.
"It really came to fruition in a major way, in a very unexpected way," she said.
Some customers stick around for hours in the shop, which Wince designed after her grandparents' home, she said. She was able to open thanks to more than $17,000 she raised on the popular fundraising website GoFundMe. 
"The community has been receptive to it from the very beginning, from local business owners to people who are excited about the possibility of a bookstore, even if they had no idea when it would have happened or if it would truly happen," Wince said.
---
Hear more: Ymani Wince on the Business Brief podcast
---
Bookstores across the state focused on underrepresented voices are carving out spaces to celebrate diversity. Several have been able to keep operating thanks to fundraising from their communities. 
Recently, many shops have highlighted books that Missouri schools have removed following a law passed last year that restricts explicit sexual materials from school libraries. Bookstore owners point out that many of the titles are by or about people from historically underrepresented communities, like "The Bluest Eye" by Toni Morrison and "Gender Queer" by Maia Kobabe.
Some libraries and the American Civil Liberties Union have sued the state over the law. This caused lawmakers to vote to defund public libraries earlier this year, but the proposal never passed.
"In a country like the one that we live in where historically there is racism and prejudice, and the history of slavery and all of those things that followed, it's important to read the stories and celebrate these stories, because they still speak to how we see things today," Wince said.
Filling a gap
In Kansas City, Willa Robinson runs Willa's Books & Vinyl, a bookshop focused on African American-authored books. The shop sells new, used and rare copies of books and vinyl records. 
The shop has been open on and off for about 15 years. Robinson has had to close it twice — once in 2012 when she was facing debt coming off of the 2008 recession, and again in 2021 when the building where her shop was located closed.
Robinson, too, has experienced support from her community. After the building closed, Robinson sought out to raise $10,000 to help with the expenses of opening a new location. Instead, she received about $20,000.
Still, navigating economic conditions like a recession and the pandemic has been difficult, Robinson said. "It has been rough," she said. "I have been holding on by my teeth"
But Robinson says that Willa's fills a gap in the community. The shop offers a different experience to readers than other bookstores, she said.
"I have books that you can't find in Barnes and Noble," she said. "I have books that you might not even be able to find at a library."
In St. Louis, Left Bank Books has focused on social justice since it opened more than 50 years ago. The shop hosts events spotlighting LGBTQ and other underrepresented authors and works. 
Its community showed up when the shop was damaged from flooding last year. Some customers volunteered their time to help with the clean up, owner Kris Kleindienst said. The shop fundraised more than $18,000, which made the difference in repairing the bookstore.
"It wound up being that half the costs of recuperating from the flood came from customer donations, and the other half came from insurance," she said. 
1,000 copies
Left Bank Books has given away over 1,000 copies of books that schools have removed through its Literacy & Justice Project, Kleindienst said. Titles in the project include "All Boys Aren't Blue" by George M. Johnson and "Heavy" by Kiese Laymon.
"A big job for me right now is to keep this in front of people and talk about it in events that we have and make sure that it's something you can see and learn about in our store," Kleindienst said. 
Wince encourages people to continue reading the titles being pulled. 
"People should still be reading these banned books," Wince said. "I think that (for) the community, especially with the pandemic, it's been a hard reset, where people are not going for the status quo."