Johnson County housing officials are in a race against time, and hanging in the balance are unspent federal COVID-19 dollars aimed at affordable housing for vulnerable individuals and families.
The Emergency Housing Voucher (EHV) program, included in the 2021 American Rescue Plan Act (ARPA), offers extra funding to landlords who rent to people whose dire circumstances include homelessness and domestic violence.
The Johnson County Housing Authority received 62 EHVs based on its official 2021 homeless population. The measure comes from the federally mandated "point in time count," which takes a tally on a single day in January.
Each EHV carries a special payment of $3,500, most of which goes to landlords as an incentive to house voucher holders. Expenses covered by the incentive include a month's rent, the security deposit, and free advertising of available units.
Approximately two years into the program, Johnson County has secured accommodations for 37 EHV households. The authority has about four months to issue the remaining EHVs or risk having them clawed back by the U.S. Department of Housing and Urban Development (HUD).
That is the operating assumption of the county's Housing Services Director Heather McNeive, who is going by initial HUD guidance that said the EHV program would sunset by the end of this September.
She hopes that HUD will extend the deadline through the end of the year. She wants to position Johnson County as a potential recipient if HUD redistributes the funds it recoups to stellar agencies around the country.  
But, McNeive said, "HUD has been very tight-lipped on this, and they have not really given us any winks or nods about what their plans are."
Success Rates
HUD made approximately 70,000 EHVs available nationwide as part of a $5 billion ARPA program. About three-quarters of EHV recipients have found housing, according to a real-time dashboard HUD maintains.
Kansas has a 92% percent utilization rate, driven largely by the performance of the Wichita Housing Authority. Missouri has a utilization rate of 75%. The Kansas City, Missouri, housing authority has a success rate of about 80% for its 164 EHVs.
Johnson County, meanwhile, has used about 60% of its EHVs. The relatively low percentage provides another window into an overheated real estate market, where even some of the oldest housing stock in the county has appreciated in value by approximately 50% in the past five years.
Increased housing prices affect renters as well. According to the U.S. Census Bureau, the median monthly cost of rent and utilities in Johnson County is $1,201
Households are considered cost-burdened if housing costs take up more than 30% of their income. A 2021 housing study by United Community Services (UCS) of Johnson County found that 41% of renters in the county (as of 2018) exceeded that threshold.
Federal rules allow voucher households to go above the 30% threshold in some instances, such as in a high-rent area, but 40% is the ceiling.
Johnson County bases its EHV subsidy on the fair market rent calculation HUD devises for a Kansas City region that includes 13 counties in Missouri and Kansas. The region includes urban counties, such as Wyandotte in Kansas, and rural counties, such as Ray in Missouri.
So, for instance, an EHV in Johnson County pays a maximum of $1,836 for rent and utility costs in a three-bedroom residence. The maximum voucher for a one-bedroom residence is approximately $1,200 for rent and utilities.
EHV recipients must be at or below 50% of the area median income, a figure that in Johnson County equals approximately $51,250 for a four-person household.
It's not that EHV holders can't find affordable units, said Jessa Molina, the landlord recruiter for the Johnson County Housing Authority. "You have to do a little more digging to find those units," she said, "but they are there."
In one recent example encountered by the housing authority, a voucher holder found a three-bedroom unit renting for $1,625 per month, but voucher program director Teresa Spaeth doubted it would qualify once utilities were taken into account.
You would be hard-pressed to find anything in Johnson County renting for under $1,000, said Brendon Pishny, the president of Landlords of Johnson County, a professional group of residential property owners.
A typical four-bedroom unit rents for about $2,500 a month, he said. Johnson County's maximum EHV subsidy for a four-bedroom is $2,132.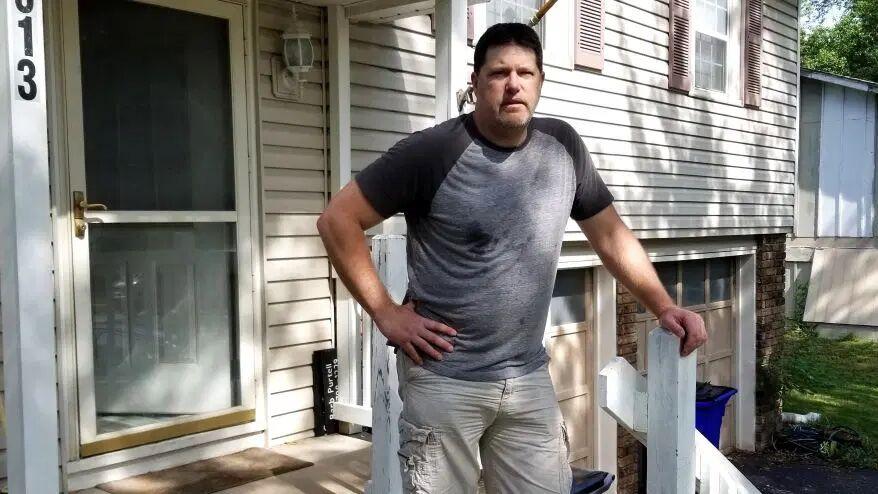 Johnson County housing officials said there are landlords who accept vouchers as a way to help the community.
But McNeive and her team know they must make a business case to other property owners to broaden the pool of potential landlords. One of their biggest selling points is the fact that, unlike an unsubsidized tenant, voucher holders can still pay rent if they lose their job. The housing authority increases the subsidy amount to cover the lost wages.
When the EHV program was announced, McNeive was optimistic.
"I was like, 'Oh my gosh, they are going to pay security deposits, they are going to pay landlord incentives. These families are going to lease up so quickly.'"
But with the tight housing market, McNeive said, "these families are just being left behind. They need more help, honestly." She is hopeful that HUD's scheduled update of fair market rents for the region will help.
McNeive is new to the county, coming over from Douglas County in December. Spaeth and Molina also assumed their positions last year. The trio said the new blood is fueling energy into marketing the EHVs.
As for meeting the Sept. 30 deadline, McNeive said, "I think we can get there."
Gathering Input
The housing authority's landlord outreach includes an informational session, hosted by UCS, scheduled for 5:30 p.m. to 7:30 p.m. on June 20 at the Johnson County Arts and Heritage Center, 8788 Metcalf Ave., in Overland Park, Kansas. You can RSVP here.
The housing authority is also surveying landlords to see what type of county-funded incentives would entice them to participate in any of the subsidized housing programs. One option would provide two months' rent per unit as a signing bonus for newly participating landlords.
Those two efforts follow a housing authority presentation at the Johnson County Landlords' May meeting. Pishny attended, as did Eric Grannemann, who owns and manages 14 units mostly located in the Blue Valley School District.
Pishny appreciated the give-and-take the landlords had with McNeive and the other representatives. He said the incentives under discussion are a good idea.
The lack of uptake of the EHVs in Johnson County, he said, is likely due to the fact that landlords don't know that much about the program. Pishny also said some landlords might not consider voucher holders quality tenants.
Dealing with the government red tape is a barrier to accepting vouchers, Pishny said. Housing authority inspections can delay filling the unit, he said, and collecting rent can be a hassle when it's split between the housing authority and a portion paid by the renter.
"Sometimes complications just make it complicated," he said.
With the demand for rental units so high, Pishny said, voucher holders are at a disadvantage against unsubsidized applicants who don't come with the government bureaucracy.
Grannemann has participated in voucher programs in the past when he had rental units in lower-income neighborhoods around the metropolitan area. He didn't find voucher tenants to be any worse than non-voucher tenants.
Pishny said the $3,500 EHV incentive could get him to consider accepting a voucher, but it's a moot point for Grannemann. He just doesn't have that many vacancies, and when he does units are snapped up quickly.
"It's scary even to market the property," Grannemann. "You know your phone is not going to stop."
He's had to put off renovations to units because tenants aren't moving out, and he's had a couple of instances lately where people have paid him a full year's rent upfront to get into the unit.
The best solution to the current market, he said, is for developers to build more housing. In the past year, the Board of County Commissioners has authorized spending a total of $2 million to help pay for the construction of two affordable housing projects in the county.
Even if new units come in at the high end, Pishny said, that can open up units at the lower end of the rental market as tenants trade up for better accommodations.
For now, McNeive knows the market presents a challenge. It's natural and understandable, she said, for landlords to give higher priority to applicants with good incomes and high credit scores.
That's why they are getting the word out about the EHV incentives and sounding out landlords about the potential local incentives. Maybe that extra money, she said, "will encourage them to rethink it, try it, maybe take one and see how it goes, and then, based on that, take more. We are hoping."
Mike Sherry is a former editor and writer for Flatland. He is now a communications consultant for nonprofits and freelance writer.
This story was republished from Flatland News.