If you've recently visited a schoolyard playground, chances are you've walked on recycled tires.
For decades, companies like Granuband Macon LLC, have made a living by taking old car and truck tires and repurposing them into useful products, like playground mulch or rubberized flooring for schools, churches or office buildings.
Today, officials at Macon-based Granuband say they're seeing a host of new clients, as well as steady growth in Missouri's recycled tire market. They expect that trend to continue.
"We are making projections of over $2 million for 2019," said Mel Morris, who's in charge of sales and business development for Granuband. That's up from about $500,000 in annual revenue for the company's first year in 2006.
Over the last two years, Morris said, Granuband has signed on several new clients, including state agencies testing the feasibility of rubber as a pavement material and startups using old rubber to create new commercial products like protective skirts for mobile homes.
Nationally, tire recycling is also seeing growth, according to one industry veteran.
Last year, Terry Gray of Houston-based T.A.G. Resource Recovery told Recycling Today that scrap tire recycling has skyrocketed since 1984, when only 1 percent of North America's scrap tires were getting processed for reuse. That number has jumped to about 90 percent, he said.
Morris said what really excites her is the growing interest from entrepreneurs coming up with creative new ways to use recycled rubber for commercial products.
"I like that entrepreneurial spirit. It's how this turns into something bigger," Morris said. "Playground mulch has been our main product. However, as customer demands have changed, so has our focus."
Granuband produces an average of 8,000 to 9,000 tons of recycled rubber material every year, Morris said, but she believes that number will likely grow as government agencies continue testing rubber in resurfacing projects and as environmentally conscious companies continue looking for ways to reduce their overall waste.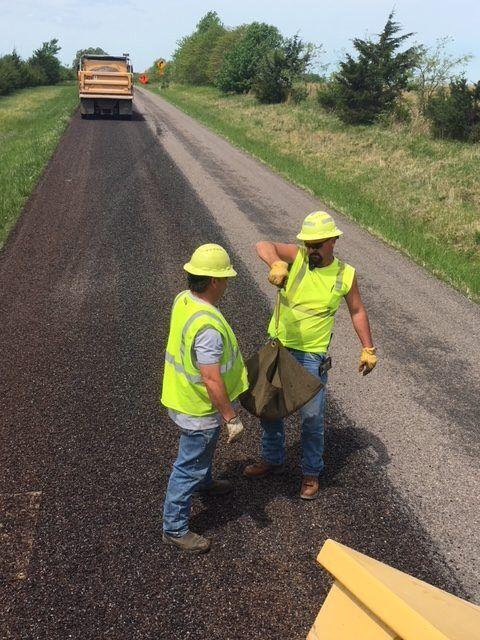 Lori Greer, an engineer with the Missouri Department of Transportation, said the agency has been interested in recycled tires for years. The department has launched two pilot projects since 2016, she said, that are testing how well rubber works as a street surface or in temporary sealants meant to maintain road integrity in between major renovations. Those roads are in Phelps County and Cole County, she said.
This month, a third site will begin construction in Boonville, spanning 4,500 square yards of city roadway, said M.L. Cauthon, director of Boonville's public works department.
Boonville partnered with the Missouri University of Science and Technology, MoDOT and other state agencies to launch the project, Cauthon said. And with the help of a $10,000 regional grant, he said, the site will be used to test whether recycled rubber chunks, or crumb rubber, can be used for a road sealing process called chip seal.
Greer said using rubberized chip seal has several advantages over the traditional method, including quieter roads, equal or greater stopping power for vehicles and fewer windshield damage claims.
Regular chip seal lays down a layer of gravel made of granite or limestone, then seals it in place with asphalt or other kinds of sealants, Greer said. But rubberized chip seal replaces the stone gravel with rubber bits, she said, so if it breaks free and hits a vehicle's windshield, it's much less likely to cause any damage.
Cauthon said Boonville was interested in testing rubberized chip seal as a way to reduce the city's tire waste. "We are drowning in these tires," he said.
Lelande Rehard, district manager for the Mid-Missouri Solid Waste Management District, said an estimated 1,200 tons of tires get thrown out each year in Missouri. Last year, he said, the district collected nearly 14 tons of tires from mid-Missouri residents in just one day.
But using rubber for chip seal also comes at more than four times the cost, Cauthon said. Standard gravel costs about $45 a ton for the city with shipping, he said, while recycled rubber runs $190 a ton with shipping. "That's the struggle, and it's a real struggle," he said.
Greer said MoDOT spends about $23 a ton for standard gravel, and $210 a ton for the rubber version. But the caveat is that because the rubber is so much lighter than the stone, she said, it covers about three times the area per ton. "By the time you figure in the additional coverage, it is probably around two to three times more expensive," she said.
Mohamed ElGawady, a professor at Missouri S&T, has been studying ways to make the material cheaper to produce but said the price would likely drop if demand for recycled rubber increased.
The university also addressed fears that using rubber for roadways would put harmful toxins into the ground, he said, but their tests showed that water coming off roads using rubber chip seal still meets state and federal safety standards.
Morris said the biggest factor affecting rubber costs is fuel prices. They're high enough to prevent her Missouri plant from increasing its market by selling to the East and West Coasts, she said. "They can send it from Amsterdam to the East Coast cheaper than I can get it there," she said, talking about shipping costs for products. "And that's not right."
But Morris does agree that increased demand for rubber would help bring prices down, and she's counting on increased public awareness of environmental issues to help push up that demand. "I understand it's cheaper to take it to the landfill, but all you're doing is adding to the problem," she said. "Progress comes at a cost."
---

Missouri Business Alert's sustainability coverage is funded in part by the Mid-Missouri Solid Waste Management District.