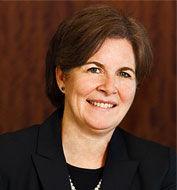 Kansas City Federal Reserve Bank President Esther George said the national economy continues to grow steadily, but that interest rates should remain low for "quite some time."
George said in a speech at Kansas City's Central Exchange that there are a number of promising economic signs, including falling unemployment, increasing business investment, improving consumer confidence and wage growth. Also encouraging is that potential potholes haven't stopped this progress.
While George said her business contacts continue to express uncertainty about health care reform and other regulatory matters, at least it appears that the economy won't have to contend with the debt ceiling debate and government shutdown threats this year. She said she expects to see 2.5 percent growth in the gross domestic product, moving toward 3 percent in coming years as employment continues to improve.