Hello, MBA readers, 
Heading into Independence Day, experts expect Americans to open their wallets over the holiday weekend despite contending with rising prices across the board. The average American is expected to spend more than $84 on food for the July Fourth holiday, and nearly 48 million people will travel at least 50 miles from home, according to forecasts from industry groups. For businesses catering to holiday revelers, increased supply costs will mean charging higher prices for products and services. But most don't expect that to put a damper on a brisk weekend of business. Speaking of spending, Gov. Mike Parson on Thursday approved a state budget of nearly $49 billion for the fiscal year that starts Friday. The governor cut about $650 million from what lawmakers had approved, including eliminating $500 million worth of tax rebates for Missourians. And, in Granite City, Illinois, U.S. Steel is considering repurposing its Granite City Works in a move that would lead to the loss of nearly 1,000 jobs for the St. Louis-area community. Local officials say the decision would be a devastating blow to Granite City, which has housed a steel mill since the late 1800s.
---
Stay alert
Parson slashes nearly $650 million from record state budget
Gov. Mike Parson approved a $49 billion spending plan for the state fiscal year that starts Friday. His cuts included $500 million in tax rebates. (Missouri Independent)
Peerless Products plans western Missouri expansion
The Kansas-based window and door manufacturer announced plans to invest $3.5 million to create 111 jobs at its facility in Nevada, Missouri. (MBA)
U.S. Steel considers repurposing Granite City plant, cutting jobs
The steel company is considering a deal that may result in almost 1,000 workers losing their jobs at the St. Louis-area plant. The deal would repurpose blast furnaces to make "pig iron" ingots. (St. Louis Post-Dispatch)
Amazon opens distribution center in Ashland
The 47,000-square-foot facility is the e-commerce company's first between the Kansas City and St. Louis metro areas and is expected to bring over 100 jobs to the area. (KOMU)
Landmark Bank to acquire Freedom Bank
Manhattan, Kansas-based Landmark will purchase Freedom Bank of Overland Park, Kansas, for $33.5 million in a cash deal, pending approval from shareholders and regulators. (Kansas City Business Journal)
Two St. Louis-area companies to cover abortion travel costs for employees
Construction company Clayco and law firm Brown & Crouppen announced they will reimburse workers for the travel costs of receiving abortion services in another state. (St. Louis Post-Dispatch)
---
Show me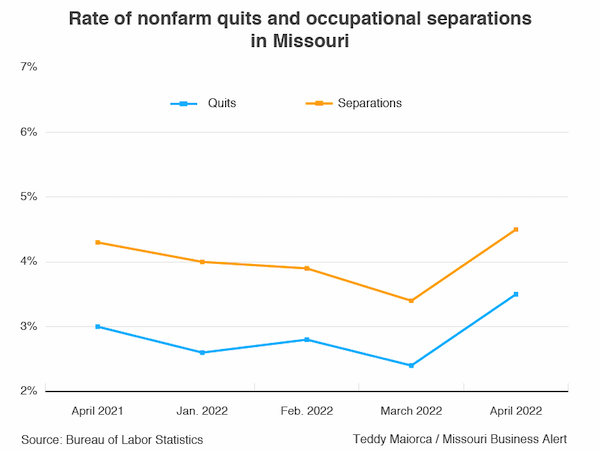 A total of 32,000 Missouri workers quit or retired from their jobs in April, giving the state the highest labor turnover rate in the nation. According to data from the Bureau of Labor Statistics, Missouri's quits rate rose 1.1 points to 3.5%. The state also saw job openings decrease in April while the number of hirings rose.
---
Go figure
$84.12
That's how much the average American is expected to spend on food for the July Fourth holiday, amounting to a total of $7.7 billion, according to the National Retail Federation. Food trucks and other culinary vendors at festivals and parades across the state expect to capture some of those dollars. The holiday weekend is also expected to stoke spending on travel, with AAA predicting this will be the second-busiest Independence Day for travel since 2000. As consumer prices rise across all categories, including fuel and food, Americans are expected to travel farther and spend more this July Fourth than they have in years. The weekend will be "like the Super Bowl" for some businesses in the state, according Kyle Kelly, co-owner of the Kelly's Port marina and gas dock at the Lake of the Ozarks.
---
Say that again
"It's an amenities arms race right now."
That's Jeffrey Karsh, CEO of Tryperion Holdings, a Los Angeles-based real estate company that has properties in St. Louis. Owners of office buildings in St. Louis are spending heavily to upgrade their properties in an effort to attract tenants, the St. Louis Post-Dispatch reports. With large companies like Centene and Caleres making significant cuts to their physical office space, the demand for space is decreasing, forcing realtors to make their properties more enticing. Newer construction is also pushing aside some of St. Louis' older buildings, which don't have the same level of facilities and amenities.
---
Hello, my name is
Senior Farmers' Market Nutrition Program
The voucher program is intended to give low-income seniors increased access to fresh produce. Launched by the U.S. Department of Agriculture right before the start of the COVID-19 pandemic, the program initially saw low enrollment. But there has been a concerted effort recently to get more farmers and seniors involved, the Columbia Missourian reports. The program allows for each senior to get up to 10 vouchers worth $5 that can be used on fresh fruit, vegetables, cooking herbs and honey from Missouri. It runs through the end of October.
---
It's been a pleasure doing business with you this morning.